"Introduction to studio portrait photography" training (6-7 March 2015)
L'équipe Studio Team 2 (Pierre Lindberg & Fotini Kaparelou) organisera un cours d'initiation aux différents techniques d'éclairage du portrait en studio:
Comment installer un éclairage large, un éclairage court et un éclairage Rembrandt.
Si le temps le permet les éclairages low key (éclairage de faible intensité) et edge lighting, seront expliqués.
A la fin de ce stage photo, vous aurez des bases pour les différents types d'éclairage en studio. Vous saurez:
Choisir les différentes sources de lumière à utiliser en fonction de l'image que vous voulez obtenir
Distinguer les différents types d'éclairages et leurs applications: boite à lumière, torche.
Mesurer la lumière et voir les différences en modifiant la position de la lumière.
Quel est le comportement à adopter avec le modèle, afin de le mettre le plus à l'aise possible et de lui faire prendre la pose que vous avez imaginée.
Le cours est étalé sur deux jours et aura lieu le vendredi 6 mars de 19h00-21h30 et le samedi 7 mars de 10h00-16h30 dans le studio du CIEL. Le nombre maximal de participants est 6. Le prix pour ce stage est 100 EUR.
Vous pouvez vous-inscrire en utilisant le formulaire en ligne à la page http://www.ciel.lu/training/ (option Studio portrait photography). Les modalités d'inscription ainsi que les conditions d'annulation sont affichées en bas du formulaire d'inscription.
Pour ceux qui n'ont pas encore suivi le cours obligatoire "Studio Safety & Care", une séance de ce cours est prévue pour le lundi 2 février de 18h00 au 20h30. Les participants au cours de portrait auront priorité. Participation à ce cours est gratuit.
Si vous avez des questions, n'hésitez pas à contacter le secrétaire du club en utilisant le formulaire de contact.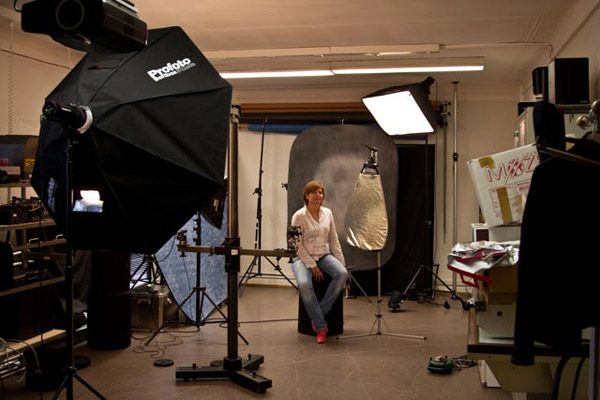 Studio Team 2 (Pierre Lindberg & Fotini Kaparelou) will organise an introductory training course for the different portrait studio lighting techniques:
How to setup a broad lighting, a short lighting and a Rembrandt lighting.
If time permits low-key lighting and edge lighting will be explained.
At the end of this course you will have the basis for various lighting set ups. You will know how to:
choose different lighting set ups depending on the final image you want to get
distinguish between different types of lighting and their applications i.e. light box, flashlight
measure the light and see the differences by changing the position of the light
behave with your model in order to achieve the image you have imagined.
The training is spread over two days and will take place on Friday 6 March from 19:00-21:30 and Saturday 7 March from 10:00-16:30 in the club's photo studio. The maximum number of participants is 6. The price for this two days course is 100 EUR.
You can enrol using the online form on the following page http://www.ciel.lu/training/ (option Studio portrait photography). The inscription details and the conditions are listed at the bottom of the inscription form.
For those of you who have not yet followed the mandatory "Studio Safety & Care" training, a session is scheduled for Monday the 2nd of February from 18:00 to 20:30. The participants of the Studio portrait training will have priority for this session. Participation in the "Studio Safety & Care" training is for free.
If you have questions, don't hesitate to contact the club's secretary using the contact form.