Lundi 9 septembre 2019 : "Carte blanche à Pierre Cester"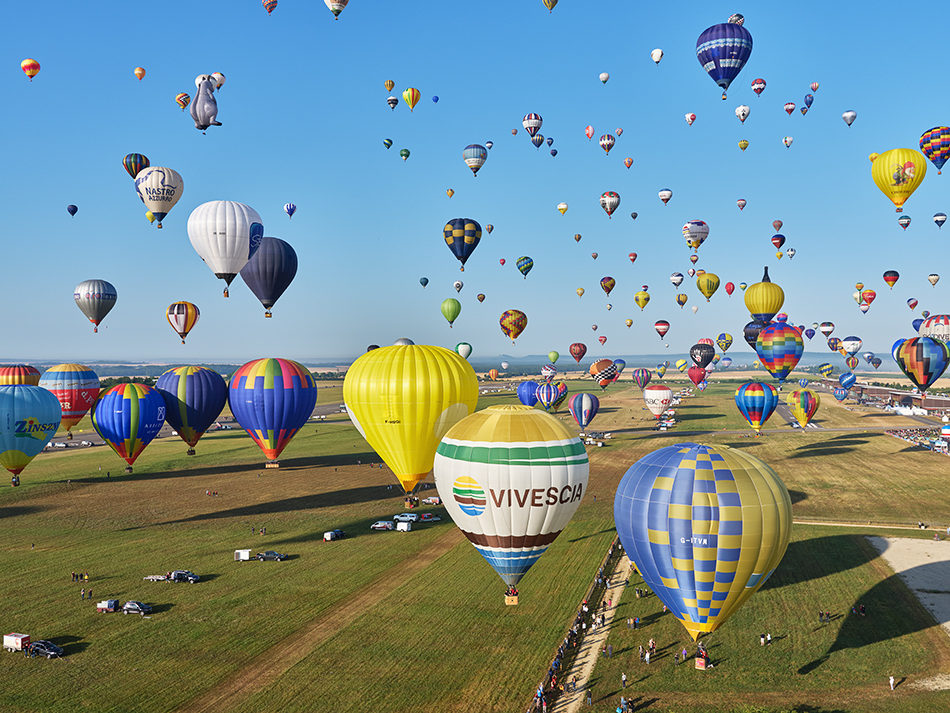 Les montgolfières du Mondial Air Ballons à Chambley (France)
Notre trésorier, Pierre Cester est un fidèle de la biennale "Mondial Air Ballons" qui se tient sur l'aérodrome de Chambley, non loin de Metz.
C'est sans conteste le plus grand rassemblement de montgolfières au monde, plus de 1500 équipages s'y rassemblent en l'espace de 10 jours.
Actuellement, ce Mondial détient le record du décollage simultané de montgolfières, soit 456.
Pierre nous propose une série de clichés pris depuis le sol ainsi qu'en vol depuis une nacelle. Photos de myriades d'enveloppes aux couleurs vives et saturées qui se gonflent et filent vers le ciel, ambiances chaudes de couchers de soleil, cadrages originaux…
Une soirée idéale pour une reprise des activités du club en douceur.
Hot air balloons at the Mondial Air Ballons in Chambley (France)

Our treasurer Pierre Cester has been faithfully attending the "Mondial Air Ballons" that takes place every two years on the airfield at Chambley near Metz.
This event is without any doubt the biggest gathering of hot air balloons in the world: during the 10 days of the event more than 1500 teams participate.
At the moment, the Mondial holds the record of the highest number of simultaneous balloons taking off: 456.
Pierre is going to show us a series of photos, made both from the ground and from a balloon´s basket. You will see myriads of brightly coloured balloons filling up and launching towards the skies, warm images taken at sunset, original compositions…
An ideal start for the club activities after the summer break.